Searching Fab Friday Finds? We are happy to share our Fab Friday Find internet photos that inspired us this week... metal tones was the draw this week!
Fab Friday's are all about sharing those beautiful photos of homes or design styles that catch our eye during the week while browsing, it's where we stop the scroll. This week we are bringing you metal tones sprinkled throughout the home. Brass and copper really pop, bringing a sophisticated style to your home.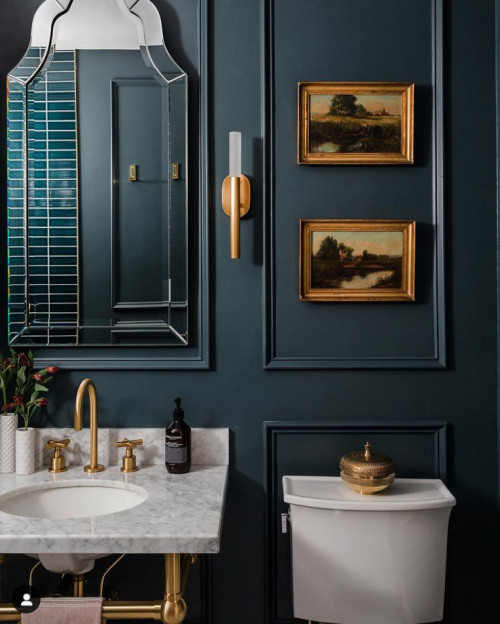 There is just something about fall that makes me want to drag out metal tones in my decor. You know the brass candlesticks, and silver charger plates, gold picture frames, brass trinkets, etc...
I mentioned over the summer that dark and moody has been calling my name these last few months. I swoon over those pops of metal tones when there is a dark background, do you?
Those pops of brass and gold really draw your attention and make you focus onto those pieces in the powder room above. I wish we had the picture frame molding in our home. Of course, we can always add it, I am sure Mr. VS will not mind me adding another project on top of our piling up list, right? I can see it now, I can just bet he is rolling his eyes.

I love the simplicity of these brass inspired vases. I am also thinking this would be really easy on our purse strings too, and we all love that! We could take bottles and or thrifted vases and spray paint them a brass color, or I am wondering out loud for you all to hear my thoughts, even a mercury glass spray paint may just work.
I do love an artichoke in décor as well. I have been searching for some for a fall tablescape for a while that appears realistic. Sometimes the most simple decor is my most favorite decor. What are your thoughts?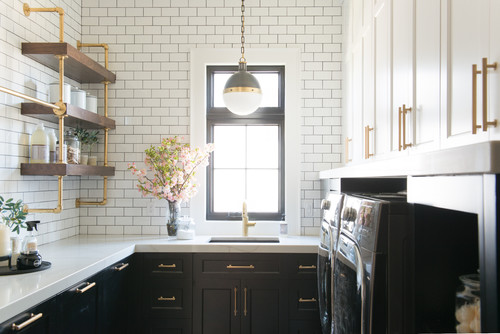 I think I just fell a little bit in love with this laundry room. Now this is a laundry room you do not mind spending a bit of time in, am I right? I might find I could do laundry everyday if I had one that looked like this! Black and white is so classic, I never tire of it, and it never goes out of style either. Talk about a win, win in my book.
I like to change up the small things in my home, I am not looking for a major renovation every time I turn around. I know some folks thrive in that space, but it is not for me. Remember, once I make up my mind, I love it forever!
Instead of the beautiful room above, our laundry room is in an old house basement with cinder block walls. Oh, I have ideas for how I want my laundry room to look, and I cannot wait to get to work on it either. You may be surprised it will look nothing like the photo above, but trust it will be completely my style!

The kitchen is as good a place as any with bits of copper sprinkled throughout. Those copper pots are on my wish list, maybe one day I can add them to our collection. I cannot tell you why, but I just have always loved copper pots.
Off topic, but what are your thoughts on a mirror in the kitchen? I think I would like to have one in our kitchen since it is such a dark room, but I cannot say I am in love with the aspect of cleaning the grease that floats through the air when you cook.
Of course, you would know my practical mother was the one who pointed that aspect out to me. You know I would never even consider the cleaning aspect until it was hung and I would notice that it was not it's shining perfect self. Only then would I realize maybe a mirror was not the best decision for our kitchen. I love all things pretty, and unusual, and she thinks with a more utilitarian take on life. Really puts a kink in my plans when she tells me my whimsical ideas are not the best ideas for real life.
For the record... ha, punt intended... I would not say this would be something I would typically pick, but this brass credenza just might make me take a walk and toe the line into unfamiliar territory. The brass pops perfectly with the backdrop of cream walls, the black sides and top, along with the record player.
The more I look at it, the more I like it. I always said I wanted to provide content that is not my norm, and I would say this fits the bill. What are you thoughts?
I know some would not agree with me, but I am one who thinks brass never goes out of style. I know there was this lapse where brass was not high up on everyone's list of choices, but I am seeing a steady change with the grandmillennial movement. I, for one am a fan of it. How can we not love those cherished items passed down over the years?
I am a sentimental person so of course this would be right up my alley. I also like items that differ from what most have in their homes, another box checked off the list. I like ruffled linens, and pleated lampshades, florals, and wallpaper. Don't remind me... I know I said we would never have it in our home again, but oh my goodness, the choices that are available to us now! What's a gal to do? Well, it just so happens this gal sprinkles wallpaper through her home, only in small doses like closets. I get my fix when I open those closets everyday.
Ok, you twisted my arm, we must discuss
grandmillennial next week on Fab Friday Finds. Well, hope you have a wonderful Friday and weekend. This cooler weather has been a wonderful distraction for me. Of course, not much is getting done, but I think I need the Vitamin D. Any plans for the weekend?
Find below a few lovely pieces we thought went well with our post today. Enjoy!