Searching Fab Friday Finds? We are happy to share our Fab Friday Favorite Find internet photos with you that inspired us this week.
We have so many new faces, welcome to VSG and our Fab Friday Finds. We are so excited to see you here! Fab Friday's are all about sharing those photos of homes or design styles that catch our eye during the week while browsing. This week, we are not following a theme as we tend to do.
We decided to go all willy nilly and show whatever our heart's desire. Sometimes in life you just have to let go, and let life happen. Oh, I am working on that part in case you were wondering.
How dreamy is this mudroom? This is the sort of mudroom I envision when I think about adding one to our home. I know they are saying gray is so out of style, but as I have said before, I march to the beat of a different drum, and who cares as long as you love what is in your home.
I think of gray as a neutral because it is the color that is made by mixing my two other favorite colors together. Yes, I know black and white are not colors, they are shades, but they have been my favorite for as long as I can remember.
Do you know gray was in style when our home was built? My mother's home was also built in 1950 by my great-grandparents and she indicated there was so much gray in the house when she and my father moved there that it really turned her off to the color all together. Me? I think I would have been in heaven.
I guess I am so drawn to gray because it goes with every color. There is a not a lot of commitment when it comes to decorating with gray in your home either since I cannot think of one color I do not like gray with, can you? Pink and gray, white and gray, black and gray, teal and gray, lavendar and gray... I can go on and on, but they all look great together.
My motto is, when it comes to your home, do you. I never choose colors to be in style, I just put the colors in my home I love most. Also, I have a slight commitment issue when it comes to color, I tend to stay the path with neutrals. I have found when I choose neutrals, everything goes together.



For those blue and white lovers out there. Wow! Talk about an attention seeker in this bath! If you love blue and white, then this may be your kind of bathroom. It may be a bit loud for me, but there are many aspects of this bath I do enjoy.
How nice would it be to have a large ottoman in the bathroom? If there is storage inside, I am all in. I also love that pattern on the ottoman, of course, it appears to be throughout the room too. I like pattern in small doses, it is more economical for someone like me, you know those of us who cannot go all in with bright hues in our homes.
I am admiring that bench seat beside the bathtub as well. It would be nice to have a place to set your towels while you are showering.
Have you noticed in some older homes bathrooms were the smallest of rooms? While I do not think ours are tiny, we do not have a place where I can add a bench to place our towels while I shower.
In our upstairs bathroom, I have a dressing table similar to the one shown above, and I love it! You never know you need one until you have it and so appreciate it. It is where I can store all of my makeup and items that I do not know where else to put. Hair dryer? Yep, inside my dressing table. So many items can be stored and I love each and every part of that area.
I like the simplicity of this décor in an entry way. A piece of cut glass held up by a set of corbels, and a mirror and call your entryway decorated.
I considered a similar look in our entryway when I was on the hunt for a smallish table for our foyer. I have a set of corbels in our basement just waiting to be placed somewhere. I purchased our French style mirror so many years ago, and knew it would be perfect right as you walked into our home. It sat in our living room for years while I searched for a table. Oh yes, I am one of those people... I feel the need to find the perfect piece for certain spaces.
I would find something I liked, and then would pull out my handy dandy measuring tape and would find it would be too large for the space, or too deep, or there was something always off with the size. Drat.
One day I said let's just hang the mirror because I am tired of seeing it leaning up against the wall. When we hung the mirror, guess what I found? I actually liked the space better without a table underneath it afterall. Eventually our bench was moved to the foyer so it sits there in the space and it works just fine now, but it is not necessary to have something under our bench. For years, I only had a copper boot tray at our entry and a large pot of flowers, so simple.
I think sometimes we get so stuck in our own head that we miss out on opportunities. I am willing to bet money that had we not hung the mirror then, it may still be leaning up against the wall in our living room, and I would still be searching for a table. Wasted time for sure! Let go, see what else you can do with the area in question if you are stuck.


There is just something about black and white and toile. I have been fond of toile for as long as I can remember. This bedroom is more subtle than the bath we shared above, despite the toile even covering the ceiling.
I actually find this bedroom to be quit calming, do you? Black and white is so bold, but here it appears to be subdued. If you choose toile for any room in your home, I feel you really need to be committed to it. Toile is one of those classics that are always in style, but I think you have to really love it in order to put it in your home.
I am crushing on that bed skirt! I usually go with a neutral for skirting so I do not need to change it every time I change bedding, but I think I could love that one forever. That is the thing with me, if I love it, it's forever.
When I was fresh out of high school, I began collecting décor for my home. At the time, I worked retail and saw how low I could purchase items for my future home at deeply discounted prices. Boy, oh boy, did I ever collect... I still have many of the pieces I collected from that time in my life. I remember my mother telling me do not buy all of that black and white stuff, your tastes will change by the time you have your own place. Guess what? I still love all things black and white.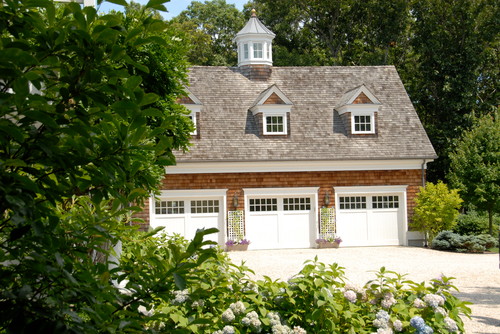 Our last share today would be a dream garage for us. We do not exactly have the space for a three car garage, but oh can you imagine? We could have all of our cars in one place, and that upstairs? Oh, I would definitely have plans for that upstairs, can you say craft area?
The mess stays in one spot and I can let everything stay out? Talk about a dream come true. Now, my dining room is a mess about 95% of the time, and I get tired of walking down the stairs to begin my day and see that mess. Every. Day. If I had a designated craft space, imagine all of the trouble I could get into. **tee
hee**
Well, we can dream, can't we? I do love dreaming up spaces with you even if they may never come to be, I still find joy in doing it. I find when I have my heart set on something, I always find a way to figure it out. I can be one frugal gal when it comes to some of my ideas for our home. $15 backsplash anyone?
Well, thank you for joining us for Fab Friday Finds this week. To our new readers, welcome! We have a lot of fun around here dreaming up spaces, and seeing what sorts of items we can create all while staying on a tight budget.
Perhaps you enjoyed the no theme this week, let me know. There was not just one topic I wanted to talk about, so I wondered why not see where the path leads us?
Enjoy your Friday and weekend! See you next week.
Here are a few items we found similar to our shares today.
Note: I do not think I have mentioned this before, but did you know you can purchase shower curtains and use the fabric for pillows, and curtains, etc... It is a more economical way to get the look you want. Fabric is expensive these days!