Searching Fab Friday Finds? We are happy to share our Fab Friday Favorite Find internet photos that inspired us this week... what a mouthful!
Fab Friday's are all about sharing those beautiful photos of homes or designs that catch our eye during the week while browsing. English and British design seems to have caught our attention like most weeks around here.
We swoon over English and British design influence. Sit a spell, kick back with your feet up on the desk, and take a few moments for yourself and enjoy our treasured finds. Thank you for stopping by, we're always happy to have you here.
I have always wanted a painting like this above our fireplace with Bentley's face like the one above. How cute is that? I am also finding the simplicity of the mantel decorations calming. Maybe I could take a page from their book here. I am always like more is more when it comes to our mantel.
How about that light fixture? If our ceilings were not so low I would want a light fixture similar to this in our living room.
What else is a draw to this room? The blue gray walls are serene to me, and for some reason reminds me of a night sky during a thunderstorm. We all know I love a bookcase filled to the brim with old books. Did you notice the crown molding? I wish we could have large crown moldings, but again, low ceilings. I think it may make the ceilings appear lower. Maybe not?
When I think of kitchens, this is what I have in mind. Look at all of that storage! I even like all of the different cabinet colors, natural, blue, and an ivory. I had not really thought of having three different finishes in a kitchen, but this seems to work in this kitchen.
I even like this hood vent. Nothing to striking or fancy, it blends with the décor, but it has a presence all of it's own.
I even like the way the door blends with the cabinets on the far wall. I am wondering if it is a swinging door? This is not my unfitted kitchen, but I do like it. What are your thoughts?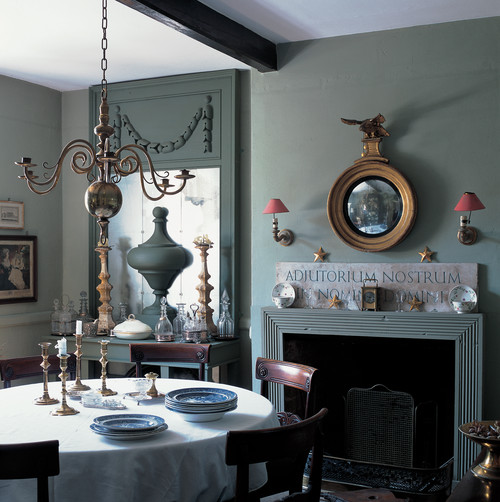 Here we are with the blue gray walls again... maybe it is becoming poular? I am really considering something like this in our kitchen. It would not be too far off with some of the decor pieces we already have in the kitchen. Once I pick something up, I tend to love it forever so I try to make all of my decor choices work, stay classic, so I am always in style. You know, my style. **wink, wink**
I've mentioned before I grew up in a blue and white home, it was everywhere... it is one of the reasons I have always steered away from it. I find as I am getting older, I am toeing a bit in the blue pool... shh, we will keep that between us though. We cannot have my mother knowing that little secret.
I keep eyeing that mirror to the left of the fireplace. I am wondering if it is a French trumeau mirror? It appears to be part of the furniture piece below, but that could just be a trick of the eyes. I am also quite fond of that porthole mirror. They have been surfacing over fireplaces a bit lately, and I have to say, I like it.
Ahh... the Chesterfield, a love of mine that goes way back to childhood. Tufting is masculine to me when showcased in leather. I do love leather, but this photo is so much more to me.
Do you notice all of the details? The nail heads on the chair and ottoman that then carry over to the chest. I am very curious about the backdrop to this room. I see where it lines up to a wall casing, but doubt furniture would be put in front of a door? Inquiring minds want to know. I love metal, again leaning towards masculine decor choices in a home.
It reminds me of an old traveling trunk, but doubtful that is what it really is.
Sign me up! When I see rooms like this, it makes me want to get out and scour flea markets from here to Timbuktu and see what I can come up with and create my own version. I just wish we could see more of this room.
I'd be interested in knowing if that is a lamp behind the chair stacked on two very large antique books. That mirror is a beauty too. This entire photo screams confidence, luxury and masculinity; what a great combination.
On the opposite side of the spectrum... you never know what you will find here.
Normally a room with this much color would turn me away, but I am finding lately I keep getting sucked in by this green. Mind you green has not been my favorite color since junior high, but for some reason this green has all of my attention. If you follow along in our
Facebook Decorating group
, I have been sharing it a lot lately. If you are a part of that group, please share your loves and finds. I'd love to see more than just my style. If you are not a part of it, please join us! Everyone is welcome to join!
There is a lot going on in this room, but it just seems to work. Plaid, wallpaper, ruffly curtain valances over the full length curtains (wondering if they are velvet curtains?), flower prints on pillows, and then the solid furniture pieces that anchor the room. I do like a good eclectic style and this room has it all.
Well, another Fab Friday Finds coming to an end. Are you always as sad as I am when it is over? No worries, we will be back next week sharing what we see throughout the week with y'all. Even I wonder what we will come up from week to week!
I enjoy sharing different than the mainstream photos we all see online day after day. To be honest, I am tired of seeing the same old thing everywhere you look. Are you? Do you enjoy what we share with you every week? We'd like to know if you feel the same way we do?
I like to dabble a bit in adventure and see where we end up each week on Fridays. To me, life is one big adventure, never knowing where the path will lead you. Some days we are in the USA, others in London, or Liverpool, or Manchester... one thing I love about the internet, you can go anywhere with a few strikes of the keyboard. Where do your fingers take you? Mine always seem to hover over England, and plaid, and leather, and moody rooms with flair... all a part of our adventures.
As always, if you are searching for similar décor to what we saw today, you can find similar items below. Having a vision and then finding the items for your vision is half the fun! I know I enjoy scouring the internet seeing what loot I can find. I am pretty excited to share with you a few items I have picked up recently myself. Think vintage, some plaid, a whole lot of age to some of our finds. How fun!